Thank you for your interest. Please contact us if you are interested in being notified should we do a FALL second cutting ... assuming it is worth all that trouble for far fewer bales per acre. Corn may be technically a week behind still (below) but hay at least was maybe 75% better, even just mowed June 14 vs July 4 per usual. Early cutting both keeps weeds from seeding and (be warned) gives a chance to blow off the second cutting if things turn too dry...for sustainable better grass the following Spring (IMHO)

BUT side note: Whoever "borrowed" the throat to my gooseneck: BRING IT BACK!!!!!" (God is the neighborhood going to the dogs I guess). Lock up the dog at night, they apparently will steal about anything they see.

Honestly it is way way too much work 14 days of my life and a few dozen bales here and there for as little as it nets (even less censible now social distancing is in the rear view mirror...we hope...Monkey Pocks!) Some of us farmers are still screaming "it has to be better then 2019 weather" and it just gets WORSE (or maybe I just get older?)

Mainly though, while you wait, we replaced the weather station (Last 2021 Fall that was stuck on 90°). Looks like the spiders wrapped the temp IC and then got wet. NOTHING likes bugs! BUT replaced and working again for this season (fingers crossed)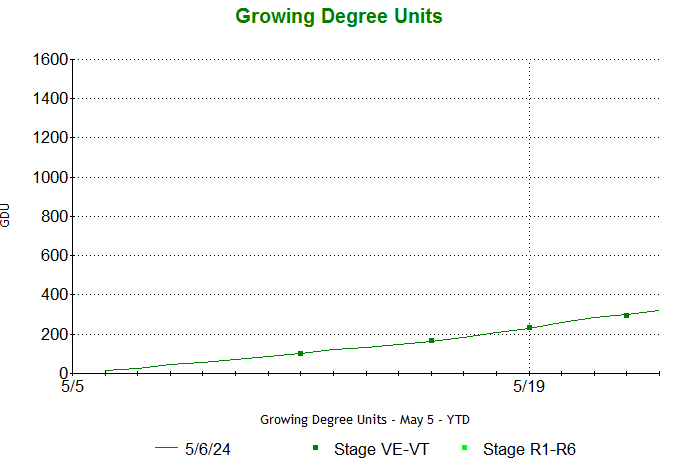 The GDU chart is coming along pretty interestingly. Although 2012 was my prior benchmark. We planted 3 days later then 2012 but are routinely running about a week behind. Currently this will put 75% pollination estimate July 14 vs July 7 2012 and black layer Labor Day? ... but naturally 2 years never identical. THAT SAID we only shift a day or two back and forth as we go right down the line Vegitative & Reproductive lines (VE, V0-V20, VT, R1-R9) after the 7 day cold start (or warm but later start those of you in May who did not miss much being a week late).